About SAIJAI
Welcome to SAIJAI, your premier on-demand service marketplace. We're here to revolutionize the way you access homecare and hospitality services with a focus on convenience, reliability, and exceptional customer satisfaction. Our platform connects gig workers to flexible job opportunities, and we prioritize their training, insurance, and financial benefits to ensure top-notch service for you.
At SAIJAI, we are dedicated to establishing a new standard of excellence in the on-demand services industry. Our commitment lies in carefully recruiting qualified personnel, implementing rigorous training and evaluation processes, offering flexible job opportunities, and providing unwavering dedication to outstanding customer service.
With SAIJAI, you can trust that your needs will be met with professionalism and care. We take pride in being the cost-effective and reliable choice for homes, businesses and workers throughout Thailand. We can't wait to show you the unparalleled convenience and satisfaction we can bring to your life.
Our journey began amidst the pandemic, fueled by a vision to create flexible job opportunities for blue-collar workers. As founders with a background in hospitality, we deeply empathized with the pain of countless hotel workers losing their jobs while witnessing the rise of digitalization in Thailand. It was evident - there was a crucial gap, and we knew we had to fill it.
Through SAIJAI, we've become a lifeline for many during these challenging times. Our mission is to ensure the high service quality and credibility of every SAIJAI Giver, because we firmly believe that the work of taking care of your loved ones is irreplaceable by technology.
As our valued customer, you are at the heart of our mission. When you choose SAIJAI, you're not just availing a service; you're actively contributing to a sustainable social economy that empowers gig workers and enhances the well-being of our communities.
Join us in this transformative journey, as we shape a future where every individual finds opportunity, and every community thrives. Thank you!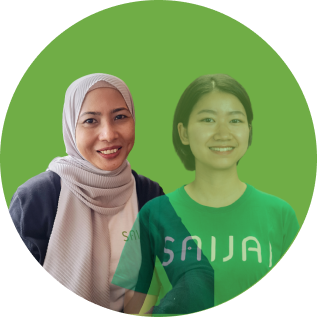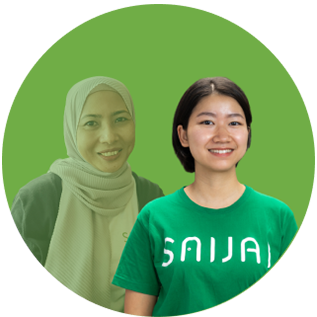 Sirilak Manoon
and
Viona Zhang
SAIJAI Co-founders
Our Family
Viona Zhang
Co-Founder and Managing Director
Nook Nattinan
SAIJAI Care
Lek Sirilak
Co-Founder and Chief People Officer
Peem Duangkamol
Business Development
Pang Pattraporn
SAIJAI Care
Nang Ruchikarn
Recruitment
SAIJAI is a platform that connects clients with service providers like tutors, babysitters, elderly caregivers, drivers, and maids. Since the service providers are independent contractors, SAIJAI is not liable for their actions. There isn't any kind of status as the joint venture's employer, employee, or representative. Independent contractors are those who deliver the services. The quality of the service is at the provider's control. Although we make every effort to give the best service providers, there may still be risks associated with using the service.